Once your system is in place, there will come a time when you would like to update forms, or request some mentoring or support on a form design.
Throughout the life cycle of composer environment, you may rearrange folders or projects, take copies and backups of forms or change form names, it is really important to ensure that you are aware of which form is the current production form, and subsequently, communicate this to your developers or support team when requesting assistance.
See this article on recommendations on how to ensure you keep your environment clean, and how to clearly identify the current production form in Composer.
This short guide will show you how to get the details of the form you wish to request support or development on.
Step-by-step guide
Before you begin, ensure you have identified for yourself the current production form in the Composer environment. If you have followed the instructions in the linked article above, then you may have written in the description of the form "Current PROD form".
Open the required form in Composer In the top right of the Composer environment, you will see a button labelled "Feedback"


Click on this button, and the below screen will open up displaying details about your form. [How-To Articles and Videos > Composer: How to communicate the right form for development or support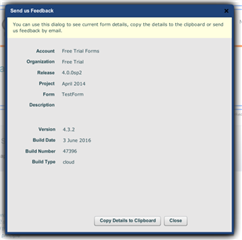 The idea behind this screen is to enable you to collect information about the form, the organisation and the composer environment you are using, to make it clear and simple for your development or support teams to identify which form you need assistance on. To communicate these details, you can simply click on "Copy Details to Clipboard" and then paste the clipboard into an email, or into your support ticket.
Here is a sample of the output of clicking "Copy Details to Clipboard". You can see that the resultant information is very comprehensive and will greatly assist your support and development teams to identify your form clearly.
-- Form Details --
Account: Test Forms
Organization: Test Forms
Project: April 2014
Form: TestForm
Template Name: Template-Maguire
-- Build Details --
Version: 4.3.2
Build Date: 3 June 2016
Build Number: 47396
Build Type: cloud
-- Search Path Details --
Release Path: Release v4.0.0
Service Pack path: v4.0 Service Pack 2
Custom Path: Free Trial Forms__Updated Maguire Pack 4 Current
-- Browser Details --
Chrome/51.0.2704.103
https://transact.composer.avoka.com.au/composer/secure/composer.htm