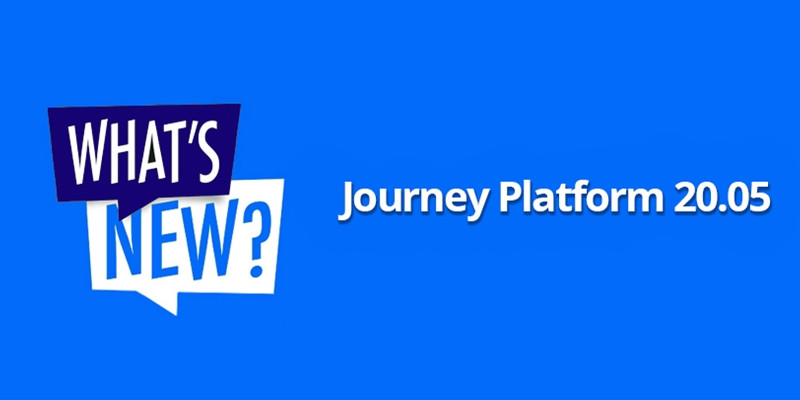 Announcing Journey Platform Release 20.05
Overview
The Journey Platform 20.05 release is a major release of Manager, Maestro, Workspaces, Analytics and Exchange, comprising of new features and bug fixes.  This will also include the release of Springboard 3.0.
Each of the modules is finalizing its release. The GA dates will be published in June as releases become available.
Release Notes: Journey Platform Release 20.05.
Journey Manager
The main focus of Journey Manager 20.05 has been to add support for the Azure Cloud. There have also been updates to support automated deployment and testing by extending the capabilities to deploy any Journey Manager ZIP archive at system start and also extensions to the bulk user import spreadsheet to support auto-provisioning of users. 
In Journey Manager 20.05 we have taken the opportunity to upgrade a number of third party libraries. This release has undergone the standard Temenos Pen Testing, Code Scanning (HP Fortify), and Dependent Library Scanning (Whitesource).
For more information, see the full Release Notes: Journey Manager 20-05.
Journey Maestro
The 20.05 Maestro release continues the theme of assisting developers to improve productivity, shortening go to market timelines, providing more information when troubleshooting issues. The ability for development teams to collaborate on projects continues to evolve with the introduction of the offline build capability. We have added functionality to extend Maestro's reach into new markets by supporting Right to Left languages in our translation function. There are smaller requests and bug fixes packaged up as well. Please read the notes below for a more detailed description.
For more information, see the full Release Notes: Journey Maestro 20-05.
Exchange
The Socure Exchange package was released, and a further five packages have been updated to fully support the configuration service (Socure, AuthenticID, FIS ChexSystems, Iovation, Plaid, and Worldpay). The Exchange Framework (TIF) v1.6.1 was also released in this version to add native support for the configuration service.
We are pleased to add the built-in configuration service support in this release so that your fluent function using TIF will automatically be compatible with the configuration service with the following features without any extra code:
- Trigger the specified configuration service on demand.
- Use the config data from the configuration service if available; otherwise, fall back to the original service connection and service parameters from the service definition and make those up-to-date config data available to your fluent function.
For more information, see the full Release Notes: Exchange 20.05.
Workspaces
The Workspaces v20.05 release includes many new features and enhancements designed to improve the Workspaces experience for processing agents, helpdesk agents, assisted channel staff, and group managers.
Key features included in this release:
- An improved build and deployment process for Workspaces that supports seamless integration to your dev-ops practices such as CI/CD.
- Task-specific actions presented alongside each task in an application to give you confidence you're acting on the right task.
- A new focused search option that lets you search on a specific application data item faster.
For more information, see the full Release Notes: Workspaces 20.05. 
Journey Analytics (Insights)
Journey Analytics 20.05 is a major release of Analytics that introduces significant new features and improves existing functionality.
Key features include:
- Journey Analytics integration for Kony Visualiser web apps
- UX and Design Improvements
- Springboard Out-of-the-Box Journey Analytics Support
- Milestone Funnel report
For more information, see the full Release Notes: Journey Analytics (Insights) 20.05.
Springboard  
By popular demand from numerous clients, this release features a Product Selector. This new feature will allow applicants to view different account types and select one (or many) products that they would like to apply for before continuing through the digital account opening (DAO) process. We are pleased to include updated automated test scripts to support this feature.
As well as upgrading to Maestro 19.11 we have also included UX bug fixes and addressed technical debt.
For more information, see the full Release Notes: Springboard 3.0.