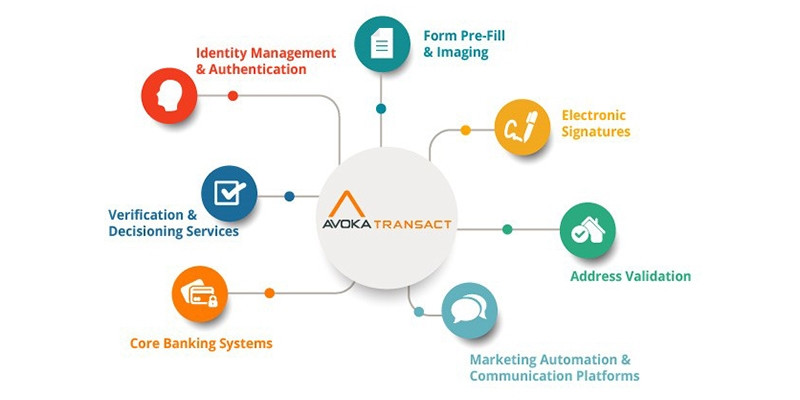 The Avoka Exchange
 is a catalog of pre-integrated FinTech applications to extend the power of Avoka Transact®.  Exchange allows financial institutions to select FinTech components such as identity verification, document pre-fill or e-signature, and create a combined solution using the Avoka Transact platform.
The result is a single customer experience for account opening or onboarding by banks, wealth managers or insurers, that includes best in class FinTech services pre-integrated for rapid delivery of an outstanding digital sales experience.
Connect to everything
Avoka Exchange includes pre-built connectors for over 30 best-in-class services such as fraud detection, ID verification, digital signatures, and more.
The integration has already been done, so each connector can be added to the user experience as needed when designing the transaction.
Time to market
The partner integrations have been completed, tested and delivered for financial projects already. Banks can come to market in weeks, not years, while avoiding complex integration and development.
User experience
Avoka creates a simplified and brand consistent user experience in front of the hidden services such as identity validation, tying them all together to make the process easier for the end customer.
Best in class services
A long and growing list of FinTech services essential to the account opening and onboarding process allows financial institutions to choose those that already fit their internal process, or to incorporate new services to support digital customer acquisition.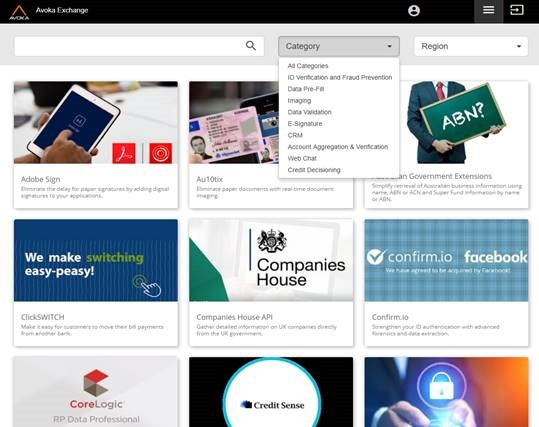 Drag & drop design
Maestro, the design tool of the Avoka Transact platform, makes it easy to incorporate Avoka Exchange FinTech services into your forms.
The pre-built connectors are included in the Maestro palette. Designers can simply drag and drop the desired services onto the form and configure them as needed.